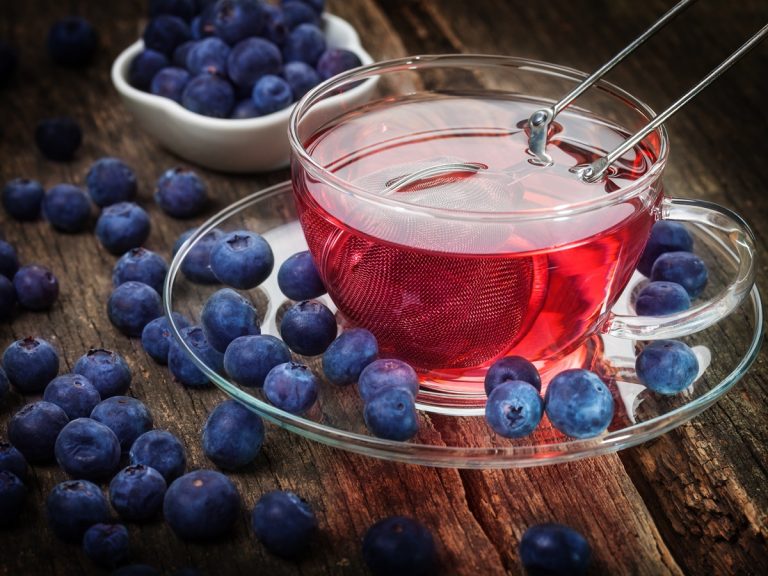 Blueberry tea offers a number of excellent health benefits, including the ability to protect against cancer, strengthen heart health, increase bone density, boost the immune system, prevent macular degeneration, improve cognitive function, lower the risk of diabetes and raises kidney health. There are very few side effects to blueberry tea, as allergies to this particular plant are rare, but stomach upset and diarrhea may occur if the tea is consumed in excessive amounts.
What Is Blueberry Tea?
Blueberry tea is made by steeping the dried leaves of the blueberry bush, as these leaves are packed with antioxidants and nutrients, just like the fruit that the bush bears. Blueberries have become one of the most sought after fruits in recent decades, after the discovery that they had potent antioxidant potential, and can have a hugely positive effect on overall health. These fruit-bearing bushes are native to North America, but were introduced to Europe nearly a century ago, and can now be found in most parts of the world. The most common species is Vaccinium cyanococcus, and the majority of its health benefits are derived from the high concentrations of anthocyanins, polyphenolic compounds and other phytonutrients, as well as vitamin A, C, B and K, potassium, manganese,zinc and iron.
Benefits Of Blueberry Tea
Drinking blueberry tea is a wise choice for anyone experiencing the symptoms of cataracts, low immunity, dementia, Alzheimer's, diabetes, kidney infections, high cholesterol, hypertension, osteoporosis, low metabolism, nutrient deficiencies and anemia, as well as those at high risk for various types of cancer.
Heart Health
Blueberry tea can provide a boost to your cardiovascular system in a number of ways, beginning with its potassium content, which can act as a vasodilator to reduce blood pressure and lower your risk of atherosclerosis, stroke and heart attack. Secondly, the high concentration of proanthocyanidins in blueberry tea have been shown to reduce your risk of heart disease.
Digestion
Gallic acid is a naturally occurring antioxidant in blueberries that can reduce inflammation throughout the body, including the stomach. By helping to re-balance bacteria levels in the gut, it can optimize digestion, reduce discomfort, cramping and bloating, and ease symptoms of constipation and diarrhea.
Immune

 

System
Our immune system can be bolstered by both the vitamin C and the anthocyanins found in blueberry tea. Vitamin C stimulates the production of white blood cells, and acts as an antioxidant, while the anthocyanins will seek out free radicals and neutralize them before they can cause cells to mutate or undergo apoptosis.
Vision
The vitamin A found in blueberry tea means that this herbal beverage can help protect and strengthen your vision. This vitamin is known to act as an antioxidant, specifically in defending against macular degeneration in the retina and slowing down the onset of cataracts.
Lookbook Gallery