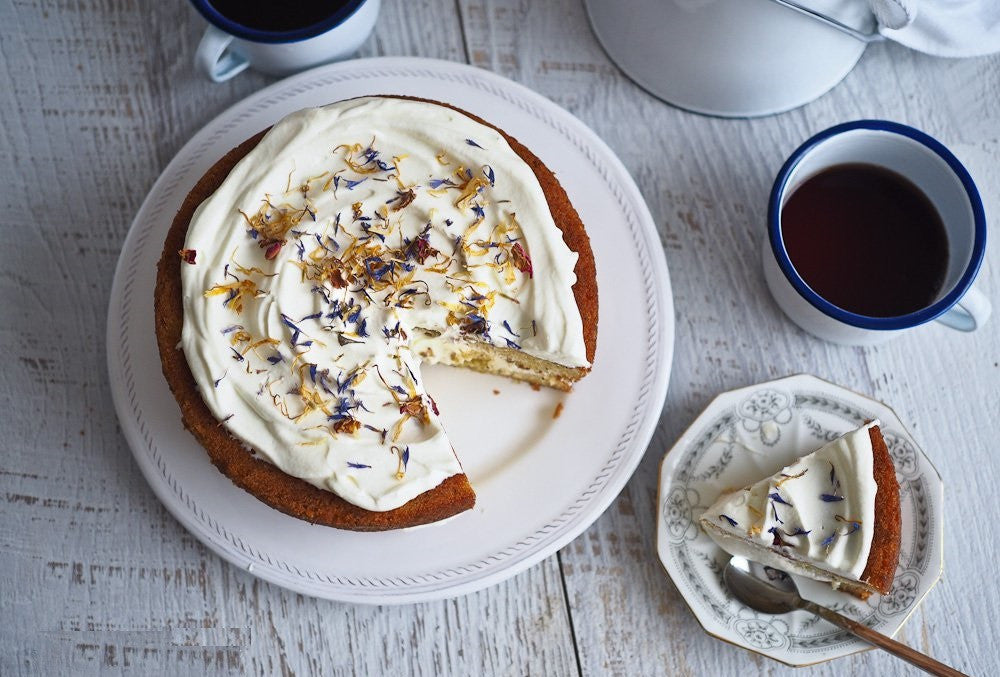 Like the chai cake, earl grey might be a good flavor for a cake and the perfect cake would be a Victoria Sponge (in keeping with the British theme). A Victoria sponge (named after Queen Victoria) is different from a chiffon sponge (using oil and separated eggs) or a regular sponge cake because it has quite a bit of butter added to it. If you ever do get a hold of fresh duck eggs, use them with this cake. Sponge cakes are the best cakes to make with them because of their high protein content and the egg whites whip up stiffer supporting the sponge.
Preparation time: 30 minutes
Cooking time: 30 minutes
Oil cooking spray
250g/8.83ozs butter, softened
250g/8.83ozs. caster or superfine sugar
1 teaspoon vanilla
5 eggs, at room temperature (or 3 duck eggs)
250g/8.83ozs. self raising flour
1 teaspoon baking powder
Tea leaves from 1 Earl Grey tea bag or 1 teaspoon loose leaf Earl Grey tea, crushed until fine
1/4 cup milk
Earl Grey Syrup
1 cup water
1 tablespoon TEAlice Earl Grey Tea
1 cup caster or superfine sugar
1/2 teaspoon vanilla
To decorate
450ml/16 flozs. cream
3 teaspoons vanillin sugar
Edible flowers
Step 1 - Preheat oven to 160C/320F. Line the base of two 20cm/8inch round tin and spray the base and sides well with non stick spray. Using an electric mixer fitted with a whisk attachment, whip the butter and sugar together for 3 minutes until light and fluffy. Add the vanilla and then the eggs one at a time, whisking until combined. Then remove from the mixer and sift in the self raising flour and baking powder from a height. Fold these in with the Earl Grey tea leaves using the milk to keep the batter moist.
Step 2 - Divide the batter into the two tins and smooth over using an angled spatula or a dough scraper. Place in the oven gently and don't slam the door. Victoria sponges are known for being a little bit temperamental and do not open the door while it is baking or turn on the light. Bake for 25-30 minutes. Cool completely in the tin. You can make these a day ahead of time, just wrap them in cling film once they've completely cooled.
Step 3 - Meanwhile, while the cakes are baking, make the syrup, Boil the water, tea bag and sugar together until it becomes a syrup. Add vanilla and cool completely.
Step 4 - To assemble the cake, whip the cream and vanillin sugar until you get soft peaks (my cream perhaps wasn't quite firm enough). Take one cake and place on a serving plate. Poke holes in the cake and drizzle some of the Earl Grey syrup into this. How much depends on you - If you do not want to necessarily serve a trifle so just used a few tablespoons per cake layer-you can also brush it on just to add flavor. Then place half of the whipped cream on the bottom layer. Place the second layer on top repeating the process with the holes and syrup and then spoon on the remaining cream. Top with flowers. This cake can keep for a day or two in the fridge (perhaps even more but it was very popular and went quickly).
Tip: you can make a London Fog with any leftover Earl Grey syrup!
Lookbook Gallery